Friday, July 26, 2013
+ TAG + 7 DEADLY SINS
Hola lindas! Traigo nuevamente el Tag de la semana del grupo
Blogger's Mexico
y éste trata de los 7 pecados capitales de la moda/belleza/lectura. Yo decidí hacerlo de los 3 por que me pareció divertido *0*.
Debo aclarar que en cuanto a lectura, me considero lectora, pero no así como experta ni clásica ni así. Tengo un gusto muy cerrado en cuanto a la lectura (el cual notarán en este tag) :) para que no me linchen jajajajaja.
M -
¿Qué prenda me hace lucir mejor?
Los tacones definitivamente ajjajaja, pero hablando de ropa, debido a la forma de mi cuerpo y mi estatura, los vestidos strapless, cortos y pegados (por no decir embarrados) con unos buenos tacones mayores a 8-10 cm. En mi clóset solo cuento con uno lol, pero creo que son los que más me ayudan con mi figura.
B -
¿Qué cosmético te pones o como te maquillas para lucir sexy?
Labial rojo con gloss, me parece muy sexy *0* Tengo colección de ellos
L -
¿Qué encuentras atractivo en los personajes femeninos ? ¿y en los masculinos?
En los femeninos que sean personajes fuertes, inteligentes y de convicciones claras. No me gustan las mujeres tontuelas en los libros u.u. En los hombres, uffff, pues si están algo enfermos mejor. Ok, no enfermos, pero que sean introvertidos, con problemas psicológicos o personales fuertes, depresivos, medio antisociales, pero aún así con un sentido fuerte de justicia, algo loquitos. El primer personaje del que me enamoré por completo fue Hieronymus Bosch del libro Más oscuro que la noche (Michael Connelly)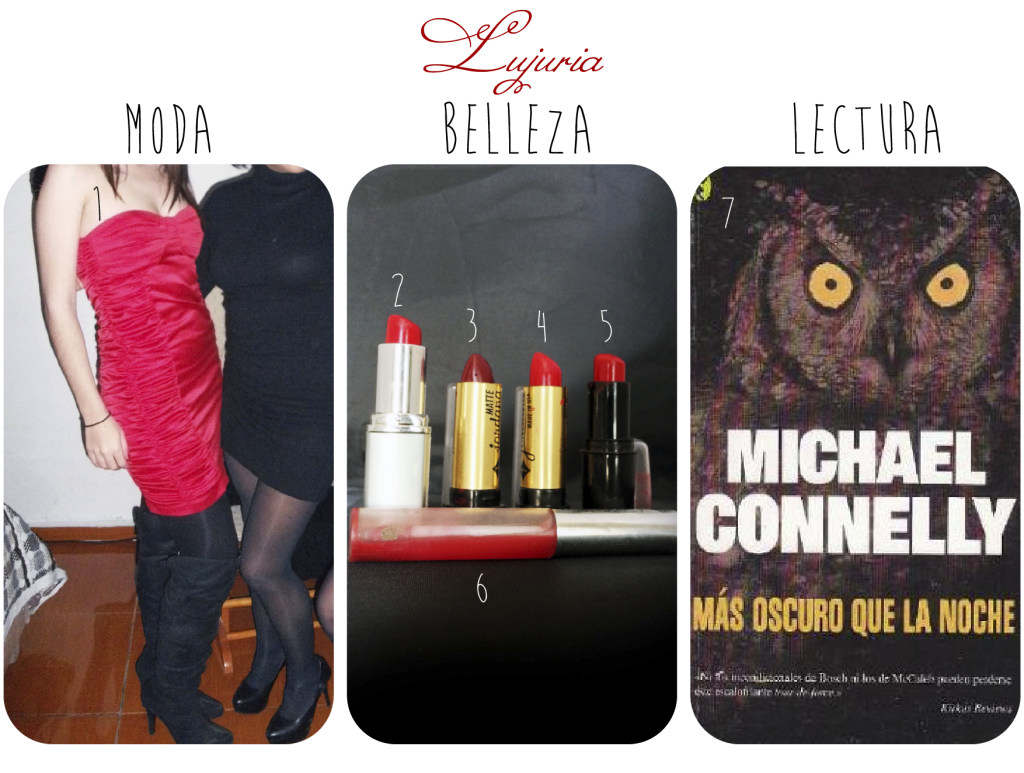 1. Vestido Strapless de C&A
2. Labial Palladio HL913- Just Red
3. Labial Jordana Matte 20-Eggplant
4. Labial Jordana Matte 33-Rouge
6. Gloss genérico comprado en un mercadito
7. Mas oscuro que la noche - Michael Connelly
M -
¿Cuál es la prenda que no uso por pereza?
Shorts y faldas cortas. Más en invierno por que me da una pereza tremenda depilarme las piernas (lo siento por la imagen mental). Además que tengo una relación de odio con mis piernas por ser tan 'carnositas' y muchas cicatrices y tengo que estar poniendo cremas y demás y arrghhhh es un batallar , ño u.u
B -
¿Qué producto de belleza descuidas debido a la pereza?
Los correctores. Son muy buenos, me gusta el aspecto que dan a mi cara cuando los utilizo pero me da una flojeeeeera inmensa que la verdad casi ni los uso.
L - Libro que no he leído por flojera.
Mhh hasta ahora tengo 4 que por más que los he intentado retomar simplemente no puedo. Leo una página o dos y los dejo para hacer otra cosa por que me aburro. Ninguno de estos libros los tengo por gusto (excepto el de Miztoquio), Los de Paulo Coelho se los quité a mi mamá por que me los habían recomendado pero bueno, los leo cuando no tengo otra cosa que hacer y se me acabaron los libros. El de El gran laberinto de Fernando Savater lo tuve que comprar por una clase de la universidad pero igual nunca terminé de leer. Y el de Miztoquio pues lo compré por que el autor es regio y me llamó la atención pero no recuerdo por que motivo no lo puedo terminar de leer.


1. Shorts de Rich Vintage
2. Paleta Eclipse con 15 correctores de Coastal Scents
3. Corrector Bissú 3-Beige
4. El Gran Laberinto - Fernando Savater
5. La quinta montaña - Paulo Coelho
6. El peregrino - Paulo Coelho
7. Miztoquio - Luis Javier Alvarado
M -
¿Cuál es la prenda que más me pongo y cuál es la prenda que más tengo?
La que más me pongo son leggings, me resultan bastante cómodos y ligeros. De la que más tengo pues creo que son playeras :o
B -
¿Cuáles son tus productos de belleza que nunca dejas de usar?
Nunca jamás salgo de mi casa sin polvo, delineador, mascara y crema labial o como se llame :3
L -
Libro que te devoras una y otra vez
Ohh muchos :S El psicoanalista, La historia del loco, Narraciones extraordinarias y el Principito son los que leo y releo y vuelvo a leer como loca.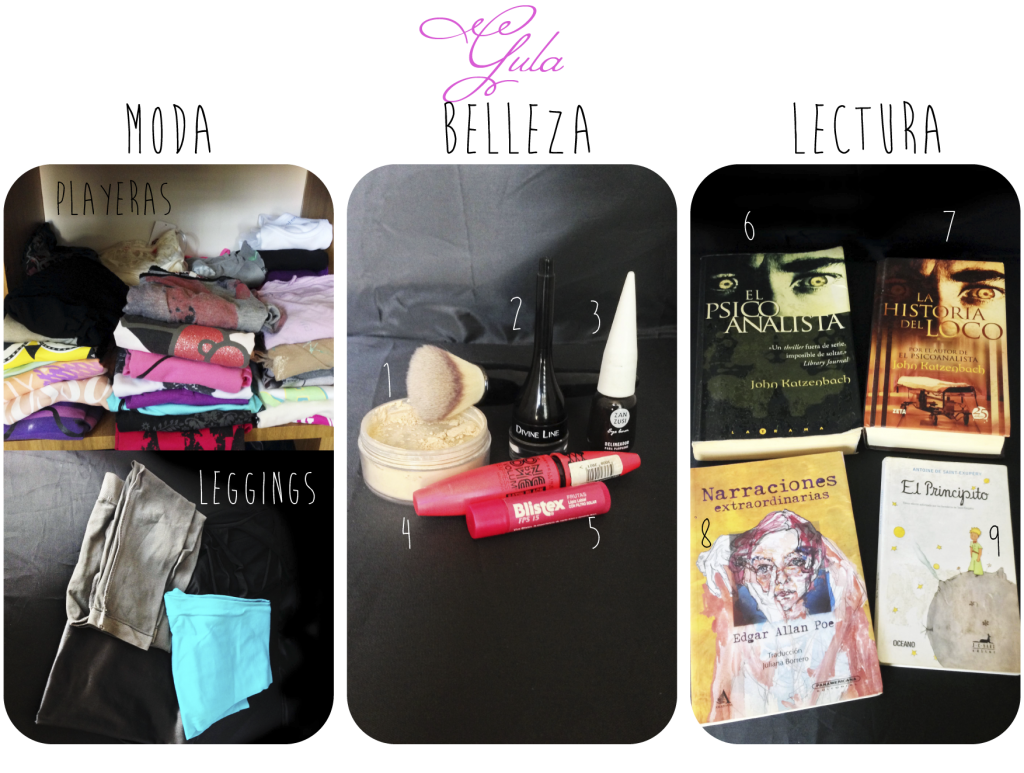 1. Polvo suelto Adara Paris LP03 Light Beige
2. Delineador en gel Coastal Scents Divine Line Raven
3. Delineador líquido Zan Zusi Negro
4. Mascara The one by one volum' express Maybelline Satin Black
5. Crema labial con filtro solar Blistex frutas
6. El psicoanalista - John Katzenbach
7. La historia del loco - John Katzenbach
8. Narraciones extraordinarias - Edgar Allan Poe
9. El principito - Antoine de Saint-Exupéry
M -
¿Qué prenda me ha costado más de conseguir? Y prenda con la que tengo una relación amor-odio.
La prenda que más me he tardado en conseguir en un chaleco largo. Los busqué y busqué y no había ninguno que me gustara. Cuando lo daba por perdido encontré uno que me gusto mucho y estaba en rebaja jiijijijij :D. Con la que tengo una relación de amor-odio son con las blusas holgadas que se están usando. Son frescas, de tela ligera, hermosas, pero simplemente no me van. Cómo les comentaba anteriormente, mi cuerpo es tipo reloj de arena: busto y caderas grandes y cintura pequeña, así que para no verme más gruesa de lo que soy tengo que acentuar mucho mi cintura para que se vea silueta, y este tipo de blusas pues nada más no u.u
B -
¿Con qué producto de belleza tienes una relación amor/odio?
Con mi kit anti-sebo de Yves Rocher. Funciona cuando se le da la gana, y cuando no no. Probablemente debería echarle la culpa a mi cara grasa, pero si se supone que estos productos son para algo, que a veces funciones y a veces no no me da.
L -
¿Con qué autor tienes una relación amor-odio?
Con Edgar Allan Poe, lo odio por no ser inmortal y casarse conmigo...ok no. Con Michael Connelly y John Katzenbach. Con Connelly lo amo por que creó a Bosch. Su libro más oscuro que la noche me encantó y es de mis favoritos. Caí en su encanto y compré más libros de él. Sus libros de Terry McCaleb me aburren, el personaje me aburre en si u.u. Con Katzenbach me pasa algo distinto, amo sus libros, sus personajes principales, pero lo odio por el final que le dió al libro La sombra jummm.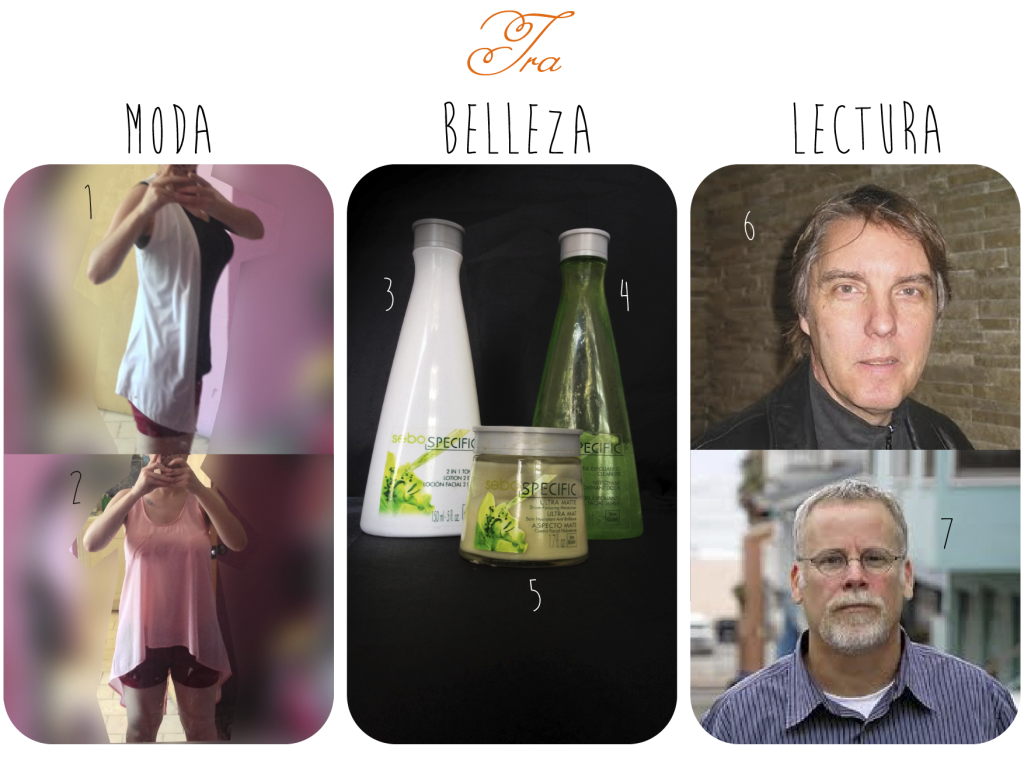 1. Chaleco Area Code comprado en Liverpool
3. Tónico 2 en 1 Sebo Specific Yves Rocher
4. Gel exfoliante facial Sebo Specific Yves Rocher
5. Crema facial hidratante aspecto mate Sebo Specific Yves Rocher
M -
¿Qué prenda me gustaría recibir como regalo?
Un vestido con corte asimétrico, o al menos una falda, los amo *0*
B -
¿Qué producto te gustaría recibir como regalo?
Algo de belleza coreana, pero los top de mi wishlist son el tomatox, Snow White Milky Pack o una tinta de labios (CatChu Wink)
L -
¿Qué libro te gustaría recibir como regalo?
3. Lip Tint CatChu Wink de TonyMoly
4. Yodo - Juan Hernández Luna
M -
Prenda más cara y más barata que tengo en el armario.
La más cara es el vestido que les mostré en Lujuria, no recuerdo cuanto me costó :(. Las más baratas son estas dos playeras que estaban en descuento y a parte al 2x1y terminaron costándome $50 Mxn c/u
B -
¿Cuál es tu producto de belleza más barato? ¿Cuál es el más caro?
Los más baratos son lápices delineadores que compré a $10mxn cada uno y pues me llevé tres jajaja. Los más caros son la BB Cream Dr.Jart+ que fue un regalo pero lo busqué y esta entre los $22 - $35 dlls. Y que yo haya comprado es el maquillaje facial en crema de Yves Rocher de $245mxn
L -
¿Cuál es tu libro más caro y cual el más barato?
Los más caros son 2. La trilogía Millennium de Stieg Larsson (que fueron un regalo, pero su valor aproximado es de $1,000mxn) y el libro que es de fotografía The Norwegian Black Metal que costó aprox. $1,500mxn. Los más baratos don el de el Principito y el de Miztoquio con un valor de $5mxn y $10mxn.
2. BB Cream Silver Label de Dr.Jart+
3. Maquillaje en crema Coleurs Nature e Yves Rocher Beige 100
4. Lápiz delineador NK AA051-Sky Blue, AA052- Evergreen y AA105- Hot Pink
5. True Norwegian Black Metal - Fotografías por Peter Beste, Edición por Johan Kugelberg
6. Trilogía Millennium - Stieg Larsson
M - ¿Cuál es la prenda que más me da confianza?
Este vestido que no se como demonios pero es mágico. Es el único vestido holgadito que tengo que no me hace ver más ancha, no se qué tiene, no se cómo, pero me adelgaza mucho la figura y lo amo *0*
B -
¿Qué producto de belleza te da más confianza en ti mismo?
El delineador, ya sea líquido o gel. Mis ojos es de lo que más me quejo por que, como mencioné en el post de los delineados, son grandes y caídos y no me gustan. Con el delineado los puedo corregir y cambia totalmente la expresión de mi cara.
L -
De que libro hablas para sonar intelectual.
De ninguno ._. Como pueden ver los libros que leo son novelas policiacas, de terror/horror, novelas noir, thrillers psicológicos, y cosas así, no creo que pueda sonar intelectual con alguno de ellos. A lo mucho puedo sonar como una persona enfermiza o loca lol.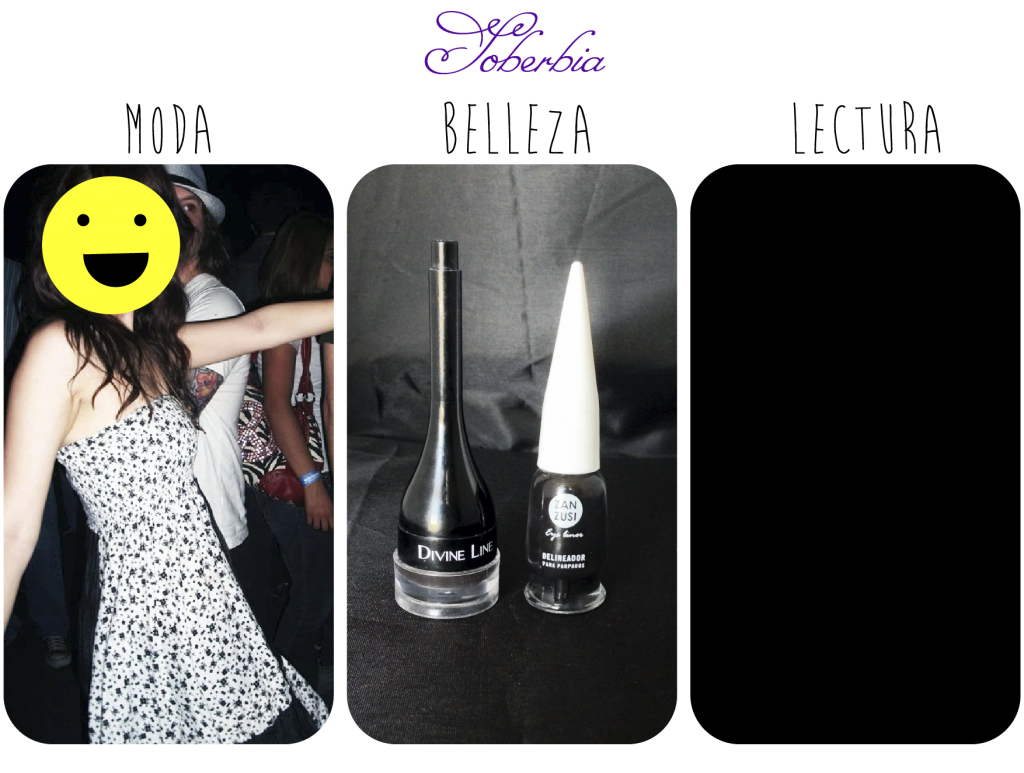 Y ta-ran. Fué todo. Se que fué muy largo, mil disculpas n_n.